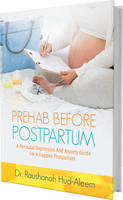 New Release
Prehab Before Postpartum: A Perinatal Depression And Anxiety Guide For A Happier Postpartum
$19.99 +shipping
This guide prepares parents for the "fourth trimester"—the first three months after delivery, when the commonly experienced but rarely discussed postpartum depression and anxiety arrives. Combining personal experiences and clinical knowledge, Dr. Raushanah Hud-Aleem, a double board-certified adult, child, and adolescent psychiatrist, helps mothers, and fathers (as paternal postpartum is a real thing), remove the everything-is-okay mask. She helps them, identify how they truly feel, and what they really want, and know when professional help is needed.
More importantly, you'll gain prehabilitation and recovery tools so that you can more effectively cope with internal and external daily stressors and shrug off the stigma around mental health. By preparing ourselves, we can reduce the severity of postpartum depression and anxiety, or prevent it altogether. The goal is to plan so that you won't forget about caring for you, and this book helps you do just that.
Get your autographed copy
The Author
Dr. Raushanah Hud-Aleem (aka Dr. Raushanah), a Board Certified General Psychiatrist and a Board Certified Child and Adolescent Psychiatrist, is a best selling author, speaker, consultant, wife, and mother of 4. Dr. Raushanah is also a co-host of "The Duality of Vitality Podcast Show: Pain to Freedom For Your Best Whole Life!".
She is passionate about helping pregnant and postpartum mothers (and their families) who struggle with depression and anxiety because of her own experience with depression and anxiety during and after pregnancy. Her passion, compassion, empathy, and love for education attract mothers from near and far.